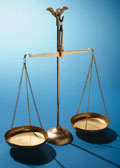 The 31st Judicial District Bar is composed of the more than 1,100 attorneys who are active members of the North Carolina State Bar (NCSB) and reside or practice in the Thirty-First Judicial District (Forsyth County). Judicial District Bars are established by statute as part of the NCSB. In addition to satisfying statutory requirements, the Judicial District Bar complies with any rules or regulations promulgated by the NCSB or requests made by the NCSB. Among the responsibilities of the Judicial District Bar are:
To hold "elections" in the event of an open judicial position in the district in order to choose nominees for submission to the Governor.
To conduct swearing-in ceremonies for new judges.
To review complaints against local attorneys and make a recommendation to the State Bar.
To keep attorneys informed of meetings, courthouse news and other matters affecting the profession.
NEWS FLASH
Administrative Order, is attached, along with the new "Medical Malpractice Case Notification and Consultation" Form.

COURT HOUSE NEWS!
Click here to link to Court House News at the Hall of Justice.